Royal Dutch Shell Group .com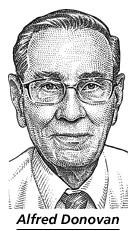 This is the home of ShellNews.net.
THE WORLDS LARGEST COLLECTION OF NEWS REPORTS, INSIDER REVELATIONS AND COMMENT ABOUT ROYAL DUTCH SHELL PLC
- ALMOST 40,000: 7,200 HERE AND THE REST ON RoyalDutchShellplc.com AND RoyalDutchShellGroup.com


(In 2005, Shell unsuccessfully attempted to seize both immensely

valuable domain names during legal proceedings via The World Intellectual Property Organisation)
DISCLAIMER: THIS WEBSITE WAS CO-FOUNDED BY JOHN DONOVAN AND HIS FATHER THE LATE ALFRED DONOVAN (DECEASED IN JULY 2013 AT THE AGE OF 96). IT IS NOT APPROVED OR ENDORSED BY SHELL. ROYAL DUTCH SHELL HAS STATED THAT IT HAS BEEN AWARE OF THE SITE FROM ITS INCEPTION AND TOOK THE VIEW THAT ALFRED DONOVAN WAS ENTITLED TO EXPRESS HIS OPINIONS AND TO USE THE INTERNET AS A MEDIUM FOR DOING SO. FOR SHELL'S OWN WEBSITE VISIT: shell.com
*The Wall Street Journal sketch of Alfred Donovan (above left) is reproduced in accordance with our "Fair Use Notice"
OVERALL RESULTS SCORE THUS FAR IN SHELL/DONOVAN PROCEEDINGS: click here
DOMAIN NAME BATTLE REGARDING RoyalDutchShellplc.com:
ShellNews.net: Shell loses Royal Dutch Shell PLC Domain Name Battle: Friday 12 August 2005: 01:35am ET: Read the article and the WIPO panel decision
THE TIMES (UK): City Diary: "AN ATTEMPT by Royal Dutch Shell to claim the website royaldutchshellplc.com from an 88-year-old veteran who uses it to publish material that criticises the oil giant has failed.": Tuesday August 16, 2005: Read the article
Email address to contact the website owner/publisher, John Donovan: john@shellnews.net
SHELL PR DISASTER IN CORRIB IR1SH PIPELINE COURT BATTLE
For the file containing ALL ShellNews.net articles click here: Complete file of ShellNews.net articles
Royal Dutch Shell Plc dotcom domain name battle with Shell
Scandalous Treatment of UK Holders of Royal Dutch Petroleum Shares
Click here for latest on BRENT BRAVO PUBLIC INQUIRY AFTER SHELL ADMITS HEALTH & SAFETY BREACHES AND FINED RECORD £900,000 ($1.66 MILLION US DOLLARS) FOLLOWING TRAGIC DEATHS OF TWO EMPLOYEES
Click here for news
on current litigation involving ROYAL DUTCH SHELL
Royal Dutch Shell legal actions against whistleblower Dr John Huong
THE JUDGEMENT/ETHICS OF SHELL SMART TRIAL CONTROVERSIAL JUDGE, MR JUSTICE LADDIE, HAS BEEN CALLED INTO QUESTION BY HIS EXTRAORDINARY RESIGNATION
Speculation of a Shell/BP Merger?
Selection of memorable/shocking Shell stories from 2004/5
Click here for all SHELL/TOTAL BID/MERGER NEWS STORIES
Click here to see our file of LEAKED SHELL INTERNAL EMAILS & DOCUMENTS
Click here for Correspondence File up to November 2005
To see news files for each month, click on the appropriate month below: -
All subsequent Shell News stories can be found at http://royaldutchshellplc.com/
ShellNews.net
ShellNews.net (originally Shell2004.com) was set up at the beginning of 2004 to provide the world's most comprehensive independently operated news and information portal focused on the Royal Dutch Shell Group. Although concerned about Shell management conduct, we did not anticipate that 2004 would turn into an "ANNUS HORRIBILIS" of nightmarish dimensions, with Shell's reputation disappearing faster than its oil reserves.
We now feature an extensive news section (see below) covering the various litigation in which Shell management is currently embroiled. It includes the US Class Action lawsuits relating to the reserves scandal and alleged human rights abuses; a claim by hundreds of former Shell employees that Shell management unlawfully misappropriated money from employees pension funds (a Judge has ruled that the claim is valid) and Shell's own High Court action against a Shell whistleblower, Dr John Huong, alleging that he has damaged Shell's reputation by exposing Shell management misdeeds. This is of course a laughable proposition as Shell management has already destroyed Shell's reputation, which is now on a par with Enron and WorldCom in terms of global notoriety and odium. For an impartial expert assessment of Shell's reputational status following the reserves debacle click here
Although we feature most Shell related news stories from around the globe including the good, the bad and the ugly - as a result of the various controversies surrounding Shell's activities, negative reports have vastly outweighed the stories which are positive. The following brief selection of news headlines speak for themselves: -
John Alfred Donovan is the owner of many Shell related Internet domain names including:
LEGAL STUFF (NO NEED TO READ UNLESS YOU ARE A SHELL LAWYER, OR SOMEONE WITH A DEEP INTEREST IN SHELL, OR IN FREEDOM OF EXPRESSION OR COPYRIGHT ISSUES)
LEGAL STATEMENT BY THE ROYAL DUTCH SHELL GROUP REGARDING THIS WEBSITE: "The... Group... have been aware of the site since the beginning and whilst they would not endorse or agree with many of the comments made by the Respondent on the website, they have taken the view that the Respondent is entitled to express his opinions and to use the Internet as a medium for doing so." This statement drafted by Shell lawyers and authorised by the "Group", amounts to tacit approval/acceptance/recognition of this website by Shell. It was submitted to The World Intellectual Property Organisation in May 2005 by Shell International Petroleum Company Limited on behalf of the Royal Dutch Shell Group in proceedings against Alfred Donovan, as the "Respondent" (then owner) of three relevant domain names, including www.royaldutchshellplc.com.
*Fair Use Notice:
This site containing copyrighted material hosted on servers in the United States qualifies as fair use under United States copyright law even if its use has not always been specifically authorized by the copyright owner. We are making such material available in our efforts to advance understanding of environmental, political, human rights, economic, democracy, scientific, and social justice issues, etc. We believe this constitutes a 'fair use' of any such copyrighted material as provided for in section 107 of the US Copyright Law. In accordance with Title 17 U.S.C. Section 107, the material on this site is distributed without profit to those who have expressed a prior interest in receiving the included information for research and educational purposes. For more information go to: http://www.law.cornell.edu/uscode/17/107.shtml.If you wish to use copyrighted material from this site for purposes of your own that go beyond 'fair use', you must obtain permission from the copyright owner. Site Ownership: Shell 2004.com (also known as ShellNews.net) IS OWNED AND OPERATED BY JOHN ALFRED DONOVAN. Contact information. The statements expressed here, and any opinions, are those of the writers alone, and neither are opinions of nor reflect the views of Shell2004.com. Content created by the writers is the sole responsibility of the writers and its accuracy and completeness are not endorsed or guaranteed. This goes for all links, too: Shell2004.com has no control over the information you access via such links, does not endorse that information, cannot guarantee the accuracy of the information provided or any analysis based thereon, and shall not be responsible for it or for the consequences of your use of that information.
This site is listed on www.cybergriping.com
© 2004/15 Shell2004.com All rights reserved.