Royal Dutch Shell Group .com
This is not the website of Royal Dutch Shell Group nor is it endorsed by them, or affiliated with them in any way.
THIS WEBSITE IS AN ONLINE REPOSITORY OF ARTICLES AND DOCUMENTS RELATING TO ROYAL DUTCH SHELL GROUP
FREE access to all information and articles. Iindependent website operated on a non-profit basis. No subscription or any other charges. No donations solicited or accepted. Owned and operated by John Donovan.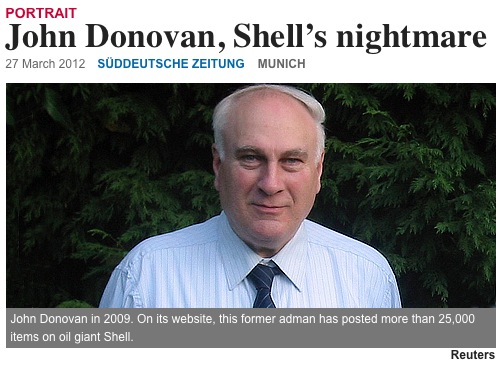 TO ENTER THE ORIGINAL ShellNews.net website click here: ShellNews.net
Current website for Royal Dutch Shell breaking news...
Outspoken articles about Royal Dutch Shell
THE DARK SIDE OF SHELL - THE EVIDENCE OF SHELL UNDERCOVER ACTIVITY AGAINST JOHN DONOVAN
First Press Statement Issued by Shell about John Donovan 17 March 1995
Our dire warnings about Sakhalin II since July 2005
US Coast Guard Report KULLUK COMPLETE REDACTED 152 page(s)
Shell Reserves Scandal 2004 (images)
Royal Dutch Shell 2007 Annuals Accounts and Form 20-F (INCLUDES SAKHALIN II Losses)
Royal Dutch Shell 2008 Annual Account and Form 20-F
Leaked Shell Nigeria Report PEACE AND SECURITY IN THE NIGER DELTA: December 2003
NCP Final Statement 19 June 2013
The Shell That Hit Germany Hardest
Danny Hanna Legal Doc 168 pages (Compressed File)
John Donovan vs. Shell High Court Trial Index Page
Royal Dutch Shell/John Donovan DPA Index Page
Wikipedia Article: royaldutchshellplc.com
Selection of Shell internal documents released to the Donovan's after a SAR application under the Data Protection Act
Donovan's/North Sea integrity document released by Shell under SAR application : dated 9 March 2007
Link to court document for Shell Malaysia pension fund case
Johnson's Russia List Sakhalin-2/Shell/Mitvol/Donovan Article: 13 November 2006
Petroleum Argus FSU Energy: Sakhalin-2/Mitvol/Donovan/Shell Article: 27 October 2006
Nikkei BP (Japan): Gripe sites are becoming more powerful: 12 November 2007
Sunday Telegraph: Shell in Arctic meltdown 6Jan 2013
UNITED STATES DISTRICT COURT DISTRICT OF NEW JERSEY: ROYAL DUTCH/SHELL TRANSPORT SECURITIES LITIGATION DOCUMENTS
Price Fixing Allegations - Tabloid press coverage May 2013
Page 78 A History of Royal Dutch Shell Vol 2
David Sexton Deposition
425_6-1Searchable: Shell Confidential: Petrol Resource Volume Guidelines Resource Classification and Value Realisation: SIEP EPB-P SEPTEMBER 2001 (49 pages)
403-1searchable:The Minutes of the Royal Dutch Shell Committee of Group Managing Directors (CMD) meeting on 23 July 2002 (10 pages)
425_8-5Searchable: NOTE 31 MAY 2002: From: Anton A Barendregt Group Reserves Auditor, SIEP-EPB - GRA: Long circulation list including Chris Finlayson: Document marked "Confidential" (5 pages)
FSA Final Notice Shell Reserves Fraud
US Securities Exchange Commission
Shell Reserves 18 September 2000 Rothermund email copied to Matthias Bichsel
Extract
One of the important elements in the EP scorecard is reserves replacement. It is essential that we should come up with imaginative ways of booking those reserves we have.
Shell Reserves 23 November 2000 Email String involving Matthias Bichsel
Extracts
I do not believe that we are missing a trick here.
What does this statement refer to, and why is it only now that we realise that we are not doing Oil reservoir engineering "properly"?
I can assure you that I am personally pushing and cajoling my staff to get the most out of what is possible. Contrary to what you have heard, we are not "covering our back side" and are "overly conservative" but are exploring every avenue to trying to increase reserves bookings.
Matthias Bichsel 20 February 2002
Matthias Bichsel 26 September t2002
Matthias Bichsel 11 November 2002
Matthias Bichsel 02 December 2003
Matthias Bichsel Deposition: 2 page Extract
Matthias Bichsel Declaration 12 June 2007 200 page deposition
Extracts
From August 1999 through December 2001, I was employed as the Director of Shell Deepwater Services ("SDS") in Houston, Texas. Prom January 2002 through March 2006, I acted as Exploration Director and was employed as such by SIEP, B.V., in The Hague from March 1, 2002. I also served as a member of the Executive Committee ("ExCom") of the Group's Exploration and Production ("E&P") business or its successor body, now called EP Leadership Team ("EPLT"). Prom December 2003 onwards, I also served as a member of the E&P Reserves Committee.
In this email, I meant to encourage my staff at SDS to do its best to think outside the box and explore the entire universe of technological development concepts, so SDAN would have many development solutions, rather than only one or two, from which to select.
In paragraph three of this email, I stated that we "are exploring every avenue to trying to increase reserves bookings."
On October 31, 2006, I stated that, when I wrote the last paragraph of this email and used the phrase "leave no stone unturned," I meant that I wanted to make sure that SDS' s work favored development scenarios that emphasized a maturation of the project's reserves rather than scenarios that emphasized capex or production cost savings.
Shell Oil Co Court Docs June 2013
U.S. Securities & Exchange Commission Cease and Desist Order: Shell Corruption in Nigeria
AMENDED COMPLAINT FILED 13 SEPT 2004 BY BERNSTEIN LIEBHARD & LIFSHITZ LLP, LEAD PLAINTIFF LAWYERS IN A U.S. MULTIBILLION DOLLAR CLASS ACTION LAWSUIT FILED AGAINST THE ROYAL DUTCH PETROLEUM COMPANY, THE "SHELL" TRANSPORT AND TRADING COMPANY PLC, CURRENT & FORMER "SHELL" DIRECTORS, ETC:
CIVIL ACTION 04431 IN THE US DISTRICT COURT OF NEW JERSEY
Please note that the Amended Complaint runs to some 250 pages (approx) and is split into the following PDF files, parts 1 to 8:
UNITED STATES DISTRICT COURT SOUTHERN DISTRICT OF NEW YORK: Ken Wiwa against Royal Dutch Petroleum Co (Shell) and Brian Anderson
UNITED STATES DISTRICT COURT EASTERN DISTRICT OF MICHIGAN SOUTHERN DIVISION: CASE No. 11-14572
Shell accused of fuelling violence in Nigeria by paying rival militant gangs: The Guardian 4 October 2011
Jarlath Finney Shell Make Money Legal Advice 17 June 1981
Dark side of Royal Dutch Shell
Richard Wiseman email 24 June 2004
Evidence File, including Sakhalin2 Information
Poster displayed by Shell at The Shell Centre 23 September 1998
Shell Connection with Al-Yamamah BAE Scandal
Daily Mail Article 7 December 2011
Irish Government Letter to Shell 22 December 2011
Click here for larger image of Guardian article
Click here for a pdf version of Guardian article
Shell seeks agency for online makeover
MILITARY TRIBUNALS COMP 6 December 1947
I.G. Farben war-criminals Vol-VIICOMP
The Secret WarThe Secret War Comp
A List of Royal Dutch/Shell Directors 1890 to 2005
A History of Royal Dutch Shell Volume 1 (38 pages) HD 600 dpi COMPRESSED FILE
A History of Royal Dutch Shell Volume 2 (29 pages) HD 600 dpi COMPRESSED FILE
A History of Royal Dutch Shell Volume 3 (19 pages Nigeria) HD 600 dpi
Shell History South Africa: From "A History of Royal Dutch Shell, Volume 3" (27 pages 600 dpi)
Shell Business Principles: From "A History of Royal Dutch Shell, Volume 3" (20 pages 600 dpi)
Royal Dutch Shell Directors: Lists of Royal Dutch/Shell Directors 1890 to 2005: From "A History of Royal Dutch Shell Appendices. Figures and Explanations, Collective Bibliography, and Index
SHELL BRENT BRAVO SCANDAL:
THE EVIDENCE ASSEMBLED BY BILL CAMPBELL, FORMER HSE GROUP AUDITOR, SHELL INTERNATIONAL: READ
SELECTION OF ARTICLES RELATING TO BRENT BRAVO FATALITIES: READ
RELATED EMAIL/LETTER SENT TO MEMBERS OF THE UK HOUSES OF PARLIAMENT: READ