Royal Dutch Shell Group .com
ShellNews.net: Shell hopes to duck its Malaysian employee pension fund responsibilities on a legal technicality: Tuesday 25 October 2005: 05.00am ET
By Alfred Donovan
<![if !vml]>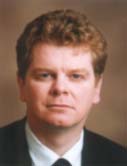 <![endif]>
Datuk Jon Chadwick (Chairman of Shell Malaysia)
ShellNews.net has obtained a leaked copy of an email from Shell Malaysia Country Chairman, Datuk Jon Chadwick (above) sent today to Shell employees in Malaysia. It relates to Shell's appeal against a stunning 70 page Malaysian Court judgement that Shell acted "unlawfully" in misappropriating funds from employee pension funds.
The class action law suit in question (there are others of a similar nature) involves 399 former employees of Shell Malaysia (known as "Team A") many of whom are elderly and ill. This has not stopped Shell from callously engaging in a strategy of deliberately dragging out the litigation.
As the email reveals, Shell is currently attempting to escape the above judgement on a legal technicality relating to time limits.
THE EMAIL (To protect our source some punctuation has been removed, the emails have been reset and recipient information deleted)
From: Corporate-Affairs SARAWAK-SMCA
Sent: 25 October 2005
To:
Subject: Employee Information: SSS-RBF Case - October 2005 Update on Court of Appeal Hearing
From: Chairman - Shell Malaysia
To: Shell Malaysia Staff Date: 25th October 2005
Subject: SSS-RBF Case - October 2005 Update on Court of Appeal Hearing
Dear Colleague,
Further to the EI dated 17th October I would like to update all Shell Malaysia staff regarding the hearing of the SSS-RBF appeal which commenced on 17th October 2005 and which ended on 20th October 2005. The Court of Appeal was convened in Putrajaya.
At the outset of the hearing the Court Of Appeal heard and dismissed with costs an application by the Plaintiffs which sought to prevent Sarawak Shell Berhad from raising the issue of limitation against them. The Plaintiffs insisted that this application be heard separately from the main appeals and the Court of Appeal acceded to this request. However, the Court unanimously found that Sarawak Shell Berhad has never waived or abandoned its rights to argue limitation.
The Court of Appeal then went on to hear the main appeal over the next four days. At the end of the hearing the Court of Appeal stated that it will deliver judgment at a later date which has not yet been conveyed to us. I will let you know of the outcome in due course - it is not our intention to enter into any correspondence or communication regarding last week's proceedings until the judgement of the Court of Appeal has been made.
Regards,
Datuk Jon Chadwick
Chairman - Shell Malaysia
HIS EMAIL OF 17 OCTOBER 2005
From: Corporate-Affairs SARAWAK-SMCA
Sent: 17 October 2005
To:
Subject: Employee Information: SSSRBF Case - October 2005 Update
From: Country Chair - Shell Malaysia
To:
All Shell Malaysia Staff
Date: 17th October 2005
Subject: SSSRBF Case - October 2005 Update
Dear Colleague,
Please be advised that in the ongoing case of Chong Thian Fook & Others v. SSB & Others - the so called "Team A case", the Appeal Hearing scheduled for 17th to 19th October 2005 will be held in Kuala Lumpur. This relates to the separate appeal filed by the plaintiffs against those parts of the Miri High Court September 2004 Decision that were in favour of the company and SSSRBF Trustees and the company's appeal against the aspects of the decision in favour of the plaintiffs.
We will update you on the outcome of the hearing.
Regards,
Datuk Jon Chadwick
Chairman - Shell Malaysia
EMAIL ENDS
A related email was received on 25 October 2005 from a confidential source within Sarawak Shell Berhad. The relevant individual expressed disgust with what Shell is doing in stooping so low as to use the limitation issue and made the point that Jon Chadwick's actions are incompatible with Shell's claimed core values of honesty, integrity and respect for people. The following is a direct quote from their email: "If the company was wrong in deducting the contributions to EPF from the payments to its employees under SSSRBF, why raise the limitation issue as a defence in spite of what he said in the Shell Malaysia's SGBP" (Shell's Statement of General Business Principles).
The source also supplied the following statement made by Jon Chadwick in 2002 in the introduction to the SGBP.
QUOTE

Introduction by Shell in Malaysia Chairman

"This document reaffirms the general business principles that govern how Shell in Malaysia and each of the Shell companies which make up the Royal
Dutch/Shell Group of Companies conduct their affairs. Upholding the Shell reputation is paramount. We are constantly judged by how we act. Our reputation will earn the respect it deserves if we act with honesty and integrity in all our dealings and we do what we think is right at all times within the legitimate role of business.

Shell Malaysia's core values are honesty, integrity and respect for people. We also believe in the fundamental principles of the promotion of trust,
openness, teamwork and professionalism, and pride in what we do.

These underlying corporate values determine the way we conduct our business. It is the responsibility of management to ensure that all employees are
aware of these principles, and that everyone performs in accordance with the spirit as well as the letter of this statement.

Maintaining the trust and confidence of shareholders, employees, customers and other people with whom we do business, as well as communities in which we work, is crucial to Shell Malaysia's continued growth and success. We intend to merit this trust by conducting ourselves according to the
standards set out in our principles."

Jon Chadwick
Chairman
September 2002
Links relating to this article:
New Straits Times: Ageing and sickly, ex-Shell staff wait on court: "Some have died. Others are losing their memory and many are ailing.": "399 former employees of Sarawak Shell Bhd and Sabah Shell Petroleum Co Ltd engaged in a protracted legal battle with their ex-employers…" "claiming that they unlawfully deducted money from their internal retirement funds…": "They won their case at the Miri High Court on Sept 20 but their employers filed an appeal.": "For now, all they can do is hope their time doesn't run out."
Sarawak News: 399 Ex-Employees Of Shell Win Suit For Refund Estimated At RM100 Million: "The Miri High Court has ordered Sarawak Shell Bhd (SSB), Sabah Shell Petroleum Co Ltd (SSPC), the Trustees of Shell Sarawak and Sabah Retirement Fund (SSSRBF) and Shell Sarawak and Sabah Provident Fund (SSSPF), to pay nearly RM100 million to 399 former employees" (Sabah Shell Petroleum Co Ltd is a UK company)
ShellNews.net: Nearly 400 former Shell staff still wait on Malaysian Appeal Court hearing after winning their High Court Case claim against Shell: "Counsel for the plaintiffs, Datuk Dr Cyrus Das, brought to the courts attention the fact that the majority of the plaintiffs are well over the age of 60 and in weak and declining health. Posted 26 May 05
Article Published By ShellNews.net: Publisher, ALFRED DONOVAN, 847a Second Avenue, New York City, NY 10017, USA. The statements expressed here, and any opinions, are those of the writers alone, and neither are opinions of nor reflect the views of Shell2004.com. Content created by the writers is the sole responsibility of the writers and its accuracy and completeness are not endorsed or guaranteed. This goes for all links, too: Shell2004.com has no control over the information you access via such links, does not endorse that information, cannot guarantee the accuracy of the information provided or any analysis based thereon, and shall not be responsible for it or for the consequences of your use of that information.
© 2004/5 Shell2004.com All rights reserved.